Hotel Pavlov offers the following accommodation capacity:
7 double rooms
7 maisonette suites with 2 double-bedded rooms
1 four-bedded room with separate entrance and with 2 double-bedded rooms
1 double-bedded suite with spacious living room with minibar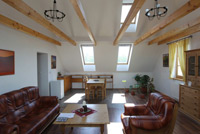 Each room offers possible extra beds thus increasing the total hotel capacity to up to 69 accommodated persons. In some rooms there are foldaway extra beds in others they are provided as separate beds.
Each room has it own sanitary facilities, shower or a bath and are equipped with a TV set and Internet access.
All rooms offer a view of vineyards, some of them offer a view of the Děvičky castle and some overlook the Mušov lake.
Special offer for families with little babies – possible loan of a baby cot.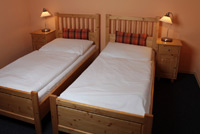 An offer for owners of dogs and cats with their own pet beds – possible accommodation of your pets together with you.
We will be pleased to accommodate you between 4 p.m. and 8 p.m.. Please notify the reception of our hotel of later check-ins on this phone No.: +420 519 324 246. Thank you.
Regular room vacation time is set at 10 a.m.. Circumstances permitting, we will be pleased to let you occupy your room longer. Therefore please do not hesitate to contact the reception desk about this issue.
If you wish to make an accommodation reservation and see the entire list of rooms and bed layouts, you can use our on-line reservation.
For price information see the price list.
Want to see what our place looks like? Let us give you a tour of our hotel.