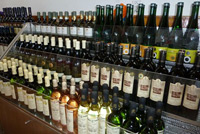 Hotel Pavlov is an ideal place for holding company meetings and corporate events. It offers all necessary equipment as well as sufficient capacity of training space for the official events such as training, seminars or presentations.
A big added value lies in the environment of Pavlov and Pálava suitable for a more agreeable – less official part of corporate events. We can arrange for food tasting and managed wine degustation with the Pavlov wine-makers.
And if you are a sports-minded or a competitive company we will prepare a special teambuilding program for you such as for example "The quest of the Pavlov wine-makers' treasure" or a company dragon boat race, you can also try action kiting etc.
Hotel Pavlov will arrange for comprehensive:
Training and seminars
Teambuilding
Corporate events in the cellar streets of Pavlov
Receptions, banquets, barbeques, catering
Wine tasting and winery excursions
Dulcimer music and bands
Don't hesitate to contact us for more information.
Want to see what our place looks like? Let us give you a tour of our hotel.