Hotel Pavlov features above-standard kitchen equipment meeting all demands of modern gastronomy.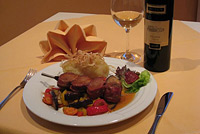 Our philosophy is to prepare high-quality meals from quality fresh ingredients. That is a reason why we have reduced the number of meals offered. The offering of meals will vary depending on the season. The menu will thus be varied regularly every three months. The recipes of every new menu are prepared by a team of our cooks and our qualified external examiner and advisor is the Prague culinary institute.
The current offering on our Menu can be found HERE!
Our Menu for children HERE!
See video recipes with cooking demonstration HERE!
Pavlov lies in the heart of the wine-growing subregion of Mikulovsko. Our offering contains quality predicate wines and varietal wines coming from this subregion with the focus on Pavlov wine-makers with whom we cooperate closely.
Wine list can be found HERE!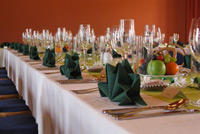 Good wine must underline and accentuate the taste of select food and naturally also vice versa. We give the combination of food and wine ample space and our trained staff will recommend to you wines which match a given food best. And if you are real gourmets, we invite you warmly to the next "Slow food dinner" which we hold regularly.
Zajistíme Vám kompletní servis:
Receptions, banquets, barbecues, catering
Corporate events
Private celebrations, weddings
Wine tasting and winery excursions
We will be pleased to answer all your queries here.
Want to see what our place looks like? Let us give you a tour of our hotel.